Bringing inspiration to the world with my Memoir, Everything's Okay. Running my foundation, The Alesia Shute Foundation
Bringing inspiration to the world with my Memoir, Everything's Okay. Running my foundation, The Alesia Shute Foundation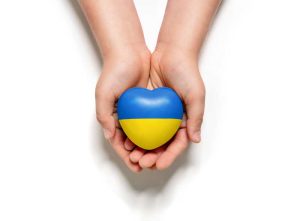 I awoke this morning like every other morning, with thoughts of the world. Where are we, what are we doing; are we doing enough? Questions
Read More »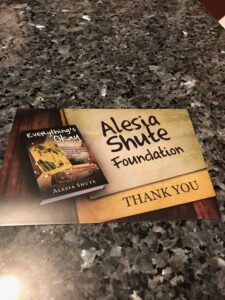 I am thinking of all we went through with the pandemic still going strong, but life is slowly and steadily creeping back to some kind
Read More »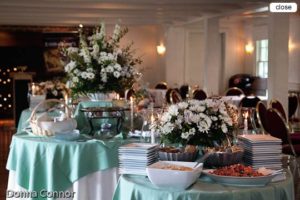 I have not written a blog is so long but wanted to reach out to all and check in to say hello and hope everyone
Read More »
Donate with PayPal to the Alesia Shute Foundation by clicking the button
"I think I'm presently at 32,000 feet over Nebraska. I just finished Everything's Okay, and I can't thank you enough for passing the book along to me. It was one of the best reads I've ever had. The woman sitting next to me on the plane sees me tearing up while reading and has to wonder why a "comic book" is having that effect on me. But I love this medium that has been developed and hope it continues catching on."
"The Children's Hospital of Philadelphia (CHOP) was founded in 1855 as the first hospital dedicated exclusively to the care of children in the United States. Since that time, CHOP has revolutionized the way care is delivered for children the world over. In this wonderful book, you'll read about a medical situation that, without the expertise of the first man ever to focus on translating surgical techniques for use on children — Dr. C. Everett Koop — would not have ended the way that it did. Dr. Koop recognized that children are not simply small adults and that special and different care should be developed for them."
"Just finished reading [the comic book]. Such a sad and heartbreaking story. I got choked up again reading the comic book version. So proud of you, always. And I'm grateful that this story had a very happy ending. Some aspects, of course, brings back memories of my own - that dreadful tube among other things - but it is unbelievable (as my dad would say) how MUCH you had to endure both as a child and an adult. Of course, you know that your mom would be swelling with pride."
"Writing fiction with imagined hurdles to overcome is one thing; writing a truthful account of the realities is quite another. Alesia Shute has captured the pain of an uncertain life that is always on the edge of collapsing and what it takes to survive tragedies not of our own making. She has done a masterful job and 'Stand up and cheer' is not an adequate description of her story, Everything's Okay."
"Alesia, I always thought you were one of the most beautiful, strongest and powerful women I knew, and your book confirmed it! I thank God you're still here to be an inspiration to everyone sick and healthy. Thank you for being in my life, too!! Love you, Chippy great book, great family, great husband!"
"Alesia, I opened your book about 4 hours ago, and four hours later, at 11:41 on a Friday night, I just finished it. I couldn't put it down. What a wonderful story."
"Everything's Okay demonstrates [Alesia's] strength and humanity in a very readable way. Readers see how her early days of as a cancer patient were so impactful. It was an easy read of a very personal part of her life that had me imagining each experience. Her vivid insights provoked me to want to keep on reading."
"Throughout the years, Alesia has shown her kindness, generosity, and enthusiasm for those in need of help that suffer from debilitating and deadly diseases including AIDS and cancer. This book encompasses how Alesia came to have such compassion and kindness for others. Alesia is a colleague, friend, and wonderful supporter of The Children's Hospital of Philadelphia and the Joseph Stokes Jr. Research Institute. It is a pleasure to participate in the dedication of her autobiography."
"I am amazed by your story and admire your accomplishments. I am fighting colitis, having been diagnosed in 1999. Some days are better than others, as I'm sure you are aware. I came close to having my colon removed last summer but then, by some miracle, started doing better. We'll see what the future holds! Thanks for sharing your story and being an inspiration to others. It gives me hope, knowing that someone else with my disease has been able to lead a "normal" life!"
"I finally received & read my copy of Everything's Ok ... wow, I can't believe everything you've been through from such a young age. You handled everything with such strength, grace & determination - more than most are capable of, especially as such a young woman. I truly enjoyed reading your story & feel so blessed that I not only know you, but that I was able to support your cause. You are an incredible human being & a true gift. You truly make the world a better place simply by being in it! WOW. Thank you & I look forward to your signing my copy of your book."
"The experience of a first love is a moment in time that everyone can relate to and Alesia Shute immediately captivates and establishes a connection with the reader with her honest portrayal of hers. As I read the book I felt as I was there with her and kept thinking how brave she was. Throughout my teaching career I have had students that have been diagnosed with serious illnesses and wish I had a book like this one to recommend to their parents. The book gives hope, which is something they desperately need at such a time. Everything's Okay makes the reader realize that there are things we can and can't control and it reminds us to appreciate everything that is good in our lives."
"I work at Joe DiMaggio Children's Hospital and see children like her fighting to survive everyday. I think that Everything's Okay can give hope to their parents and provide strength to help them keep fighting even after they are exhausted by their own journey."
"Thanks so much for sharing your story with all of us...I'm sure it will inspire those who haven't had the pleasure of meeting you. I can understand why after all the years since your initial surgeries, CHOP continues to ask you to chat with young patients. What great strength of character."
"After I first read your book, I felt like I really knew you. And I felt like I wasn't alone in the world with the issues I experience on a daily basis. More important was what I took away from my experience with you this past weekend. You showed me that my disease does not have to define who I am as a person. I may be battling an illness, but I can still be an upbeat, loving, successful person. Alesia is doing it, and I can too!"
"Alesia, it was so good to see you yesterday at our stroke support group meeting!! I am so glad I met you on sunday at the cranberry festival. Before Sunday, I didn't think I was going to be able to make it Tuesday to the meeting. After running into you Sunday, I knew I had to go to hear about your story!! I am so glad I went. You are an amazing woman!! I needed to meet you and hear your story. It was a pick-me-up for me. Sometimes I let my life get me down and need the encouragement to go on. I thank you for your book. I read it last night in one sitting when my son and husband went to bed. What an amazing inspirational journey. It was very rewarding and I must say you touched me and I am speechless!! Thank you for taking us along in your journey."
"Thank you so very much for speaking with the families. I saw their faces light up when you spoke about how things are changing for kids in schools. Your story of determination and strength was certainly inspiring. My families got so much out of meeting you both. I am hoping we will be able to continue the discussion after the parents have read the book. (I heard the mothers of the older children saying that they were going to have their daughters read it.) Thanks again."